Purpose-Built
IronMed software is the heart of the IronMed ecosystem. It's purpose-built to centralize all of your organization's digital health activity in one place. It offers an engaging and intuitive user experience for patients while clinicians receive an elegant, simplified clinical workflow and a powerful set of virtual health tools.
With IronMed software, providers can meet with patients, automate scheduling, confer with specialists, deliver educational content, track vital signs, measure program progress using advanced analytics, and send notifications. The software is secure and HIPAA-compliant, while its open framework means its compatible with any device, browser, video engine, or Electronic Medical Record (EMR).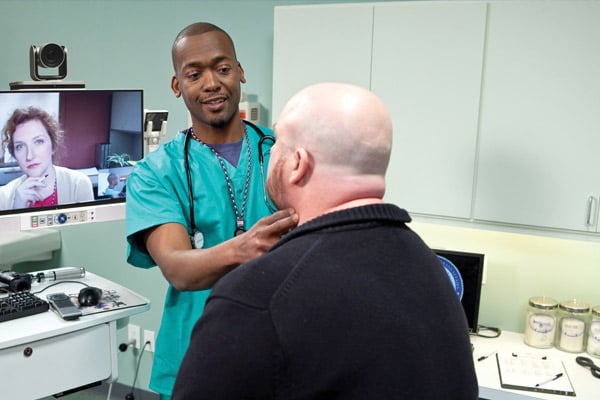 Why Choose IronMed Software?
Open Framework
The software's open architecture allows for easy integration with clinical-grade peripherals, modalities, video infrastructures, and EHR solutions.
Peripherals: Integrates with standards-based peripherals such as USB, HDMI, VGA, and Bluetooth to support multiple clinical use cases. We also have strategic partnerships to support JEDMED, Eko Devices, Cardionics, Thinklabs, Nonin, FORA, and A&D.
Modalities: Integrates with both clinical and business modalities, including multiple cameras, codecs, and devices such as Cisco DX80, Cisco Room Kit, Polycom codecs, iOS, Android, Windows, laptops/desktops, and more.
Video Infrastructure: Video agnostic and capable of running on any video conferencing solution such as Pexip, Cisco WebEx, Cisco Meeting Server, Twilio, AWS Chime, Zoom, etc.


EHR Solutions
EHR agnostic with support for both legacy and modern EHR integrations including RPMS, Cerner, EPIC, third-party EMRs, and more. Additionally, IronMed supports multiple EHR's simultaneously to create a common record.
Built-in Security
The software's Transport Layer Security (TLS) provides encryption for data in-transit and AES 256 Bit encryption for data at-rest.
Proactive Monitoring
IronMed software is monitored through a combination of Cloudwatch and our remote monitoring and management tools to alert on failures, threshold alarms, resource utilization, and overall service and subcomponent health. In the unlikely case that events impact service availability or performance, automated alerts notify you immediately.
Bandwidth Support
IronMed software utilizes an architecture purpose-built for care in any environment including urban and rural settings, even where connectivity is highly challenging. We leverage strategic partnerships with leading communications providers such as Amazon Web Services, Verizon, Sprint, AT&T, T-Mobile, and SpaceX to increase access to care for everyone.
Learn How IronMed Can Help
And drive the digital health transformation you need to enhance patient outcomes.