Introducing GuardSight Best-in-Class Cyber Defense Services
With the Iron Bow acquisition of GuardSight, we bring the most talented cybersecurity first responders and best cyber intelligence tools to identify, defend, and respond to threats on your behalf, so you can stay focused on your business.
We bring human intelligence to security tools, helping you and your team:
Understand your vulnerabilities

Incorporate security into your daily operations

Respond swiftly to protect your reputation and protected data

Improve cyber hygiene
Attackers seek out soft targets. GuardSight offers Managed Security Service Provider (MSSP) services, rigorous penetration testing, and cyber-attack simulations to ensure your assets are hardened and your personnel know how to respond when anomalous activity occurs. Our cyber Subject Matter Experts (SMEs) and Operators are dedicated 24/7/365 to threat detection, monitoring, and incident response.
Highlights
Healthcare Remains a Primary Target for Cyber Attacks

Rising Costs and Prolonged Dwell Times
Healthcare data breaches have the highest cost of any industry, and the longer it takes to contain a cyber-attack, the costlier it will be.
Today, the average healthcare breach exposes 3.32 million records. Attacker dwell times last an average of 16 days and the Healthcare industry's average cost of remediating a single ransomware incident is at $1.27 million.

Safeguarding Your Patients, Employees, and Reputation
As has been said many times, it is no longer a matter of if, but when. Don't wait until it's too late to protect your patients, employees, and reputation!
90% of healthcare organizations reported a loss in revenue after a cyber attack, with averages ranging from $21,500 per hour to as much as $45,700 per hour.

Anticipating Heightened Cyber Attacks
John Riggi, the National Adviser for Cybersecurity and Risk at the American Hospital Association, believes that 2023 is set to have more widespread attacks than 2022, as healthcare facilities have faced 266 digital incursions affecting 36 million individuals halfway through the year.


Be Ready for Any
Cyber Attack
We offer customized packages, including affordable and efficient Tabletop Exercises (Attack Simulations) that can be implemented immediately to engage your teams and secure your systems now.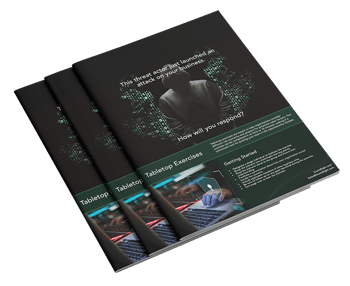 Recent Cyber Attacks
Prospect Medical Holdings, based out of Culver City, California, is a private equity-backed owner of 16 hospitals. Prospect experienced a cyber attack in August 2023, causing emergency departments to close, ambulances to be diverted, and other medical services to cease operations.
READ MORE


UMass Memorial Medical Center, based out of Worcester, MA, paid $1.2 million in 2023 to settle a March 2022 lawsuit regarding a data breach of its payroll management system.
READ MORE


St. Margaret's Health, based out of Illinois, shut down two hospitals in June 2023, partly due to a 2021 ransomware attack that caused serious payment system disruptions. The incident impacted its ability to bill patients and get paid in a timely manner for the provided services. The systems were down for more than three months.
READ MORE

AdventHealth, based out of Altamonte Springs, FL, agreed to pay $500,000 in 2023 to settle a data breach lawsuit due to the health system not protecting patients' confidential information after a September 2021 data breach.
READ MORE


CommonSpirit Health, based out of Chicago, fell victim to a ransomware attack in 2022 that disrupted operations at many of its more than 140 hospitals around the country.
READ MORE


Lehigh Valley Health Network, based out of Allentown, Pennsylvania, shared that the network was attacked in February 2023. A ransomware gang known as BlackCat broke into the radiation oncology treatment computer system and posted breast cancer patient photos on the dark web.
READ MORE
Contact Cyber Experts Now
Don't wait until it's too late to protect your patients, employees, and reputation! Let Iron Bow and GuardSight support your Cyber-Resiliency needs.
Report an Incident
For immediate assistance, call 844-482-7374, or email our incident response team.